DHF Award Best Oral Health Project
The Dental Health Foundation Award for Best Oral Health Project was established in 2015. The award is presented to the best student project from the Dental Hygiene Diploma Course in the Dublin Dental University Hospital, Trinity College. The project is based on a critical review of scientific literature involving a comprehensive search of relevant published articles on a specific population group with specific oral healthcare issues. The project is written in a thesis format, 3000 words maximum. The project and defence of the project forms part of the final examinations.
We are delighted to announce the winner for 2021, Ms Ruth Duffy with her final project. The award was presented to her at the online Graduation by Ms Etain Kett, Public Affairs and Communications Manager.
You can read the abstract of Ruths winning project here:
'What are the optimum plaque control methods for patients with fixed orthodontic appliances?'
We feel that this is very apt for current times, when people have become self-conscious of their appearance on online meetings and may be thinking about getting braces to 'tweak their teeth' a bit. They may be more concerned about aesthetics but don't realise how important a good oral hygiene routine is when wearing braces and the impact it can have on their oral and general health.
Well done to Ruth for highlighting the importance of the role of dental hygienists in educating, advising and empowering the patient.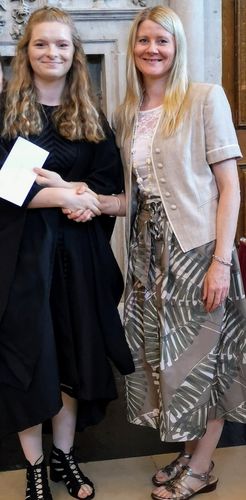 In 2019 the award was presented to final year student, Ms. Martyna Karkosa pictured (L-R) being presented with the Award by Ms Etain Kett, Public Affairs & Communications Manager, Dental Health Foundation.