Useful Links
Oral Health and Down Syndrome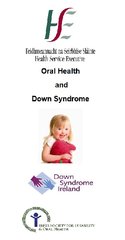 People with Down syndrome have no unique oral health problems, but the problems, if they do occur, tend to be more severe and can affect general health. Daily oral care at home and early dental visits can prevent or reduce the severity of these problems and allow people with Down Syndrome to enjoy the benefits of a healthy mouth.
This Brochure was produced by the HSE, Down Syndrome Ireland and the Irish Society for Disability and Oral Health.
https://www.hse.ie/eng/services/publications/primary/dental-services/oral-health-and-down-syndrome.pdf
A Caregivers Guide to Dental Care
Helping someone with their dental care can be challenging. But a healthy mouth helps people eat well, avoid pain and tooth loss, and feel good about themselves.This guide produced by the National Institute of Dental and Craniofacial Research will show you how to help someone with brushing and flossing.
https://www.nidcr.nih.gov/sites/default/files/2017-09/dental-care-every-day-caregiver.pdf
Accessing A Special Care Dentist
The Irish Society for Disability and Oral Health have provided information on accessing dental treatments for those with special needs.
http://isdh.ie/patient-information/
Brush my Teeth
Irish experts started Brushmyteeth.ie to make sure that everyone can get good advice about toothbrushing in one place, whether they have a disability or not.
On this site, you can access videos and other resources to show you how to do this. Just click the video that matches how you want to brush your teeth. Each video lasts less than five minutes and shows you different ways tooth brushing, covering the simplest to the most difficult situations.
They also have a range of extra resources to help you brush your teeth.