White Paper on the Importance of Oral Health Promotion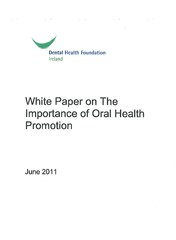 Download
Summary
The burden of chronic diseases is expected to rise dramatically in the Republic of Ireland between 2007 and 2020 (Institute of Public Health, 2010) .
The available evidence shows that oral diseases share important common risk factors with the four leading chronic diseases - cardiovascular diseases, cancer, chronic respiratory diseases and diabetes - including unhealthy diet, tobacco use, and excessive alcohol consumption. Therefore good oral health is of vital importance to the general health of everyone in Ireland. Consequently, oral health promotion and preventive measures are important approaches to improving overall health and reducing costs.
In line with these issues the Dental Health Foundation have produced this White Paper on the Importance of Oral Health Promotion. This paper has been submitted as part of the Public Health Policy Review - Your Health is Your Wealth: A Policy Framework for a Healthier Ireland 2012-2020.