OHPRG Bursary 2016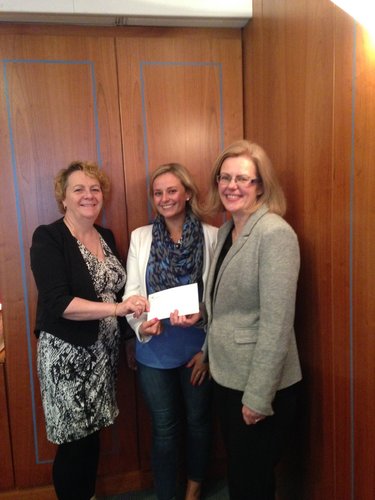 Ms Rose Bradley Molloy, Chair OHPRG, Bursary Winner Dr Una McAuliffe, Ms Patricia Gilsenan O'Neill, Chief Executive DHFThe Dental Health Foundation would like to congratulate the winner of the 2016 OHPRG Bursary Award, Dr Una McAuliffe.
This year saw a very high standard of entries. We wish to thank everyone who entered and encourage them to continue their excellent work in highlighting the importance of oral health promotion in Ireland.
To view Dr McAuliffe's winning entry "Fluoride varnish efficacy in preventing dental caries in high risk children following treatment under dental general anaesthesia: a prospective study" click here
OHPRG Bursary Award
The Oral Health Promotion Research Group, Ireland, [OHPRG] is pleased to extend a bursary of up to €1,500 for 2016. This bursary has been sponsored by the Dental Health Foundation. The OHPRG is awarding the bursary this year to promote the communication of current oral health promotion projects and work that is going on across Ireland.
Criteria for application for the bursary.
Applications are accepted from individuals or teams. Applicants should describe a recent or planned oral health promotion project in which they have been involved. The format of the application should include the following headings:
- Title / Introduction
- Background
- Aims and objectives
- Materials and methods
- Results (if available)
- Discussion and conclusion
- Acknowledgements
- Costs (for projects at the planning / roll out stage)
The work should not have been presented elsewhere nor have been awarded a prize previously. If you have previously submitted an application and been unsuccessful why not review and re-apply.
Applicants from the HSE must have the permission of their line manager to submit the proposal and the submission must bear the signature of the line manager.
The application should be submitted to: Mairead Harding at m.harding@ucc.ie by 5pm on Friday, 12th August 2016.
Applications will be judged by the members of the Committee of the OHPRG. The Committee reserves the right to withhold the bursary if applications do not meet the submission. The decision of the judges is final. The winning applicant will be notified by e-mail no later than Friday, 2nd September 2016.
Informal enquiries regarding the Bursary, please e.mail m.harding@ucc.ie