Moloney Award 2015
This year the format for the Moloney Award was changed, with the award going to an outstanding Irish presenter/lecturer at the IDA's annual scientific conference as chosen by the delegates.
The Dental Health Foundation would like to congratulate this years winner, Dr Eanna Falvey for his presentation on head and facial trauma in sport. Trauma to the face, head and teeth is common in sport. Dental trauma may be a harbinger for underlying trauma. Dr Falvey's presentation discussed mandibular fracture, gum shield use, headgear use and concussion in sports such as rugby, boxing and cycling.
Dr Anne Twomey, IDA President, presented a specially commissioned Waterford Crystal bowl to Dr Falvey.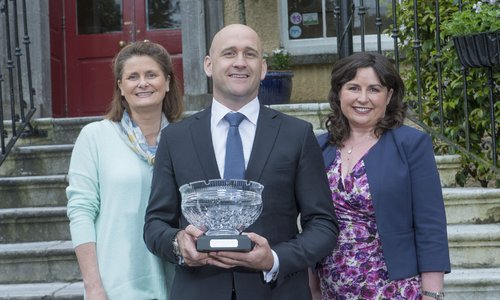 Pictured are (L to R) Dr Mairead Harding, DHF Trustee, Dr Eanna Falvey, Moloney Award Winner 2015 and Dr Anne Twomey, IDA President