Moloney Award 2013
This year saw the continuation of the Dr Joe Moloney Award at the Irish Dental Assocation Conference sponsored by the Dental Health Foundation. This award (a magnificent glass trophy) was presented to Kellie O'Shaughnessy.
The Title of Kellie's project was The Dental Den Programme which is a brand new oral health promotion programme for children.  It is aimed at improving and maintaining the oral health of children in private practice.  Objectives include team practice policies, education on plaque control and sugars in the diet.  The programme is currently running within private practice and is available for sharing. To access The Dental Den website, click here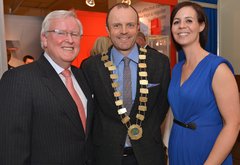 Congratulations and thanks also to other entrants including;
Dr Sarah Brody- The dentist's role in managing obstructive sleep apnoea.
Dr Mary McGeown-Materials and techniques for placing and removing flexible splints on traumatised teeth. 
Dr Yvonne MacAuely- Sports guards: importance, types and fabrication in general practice. 
Dr Lisa Walshe- Oral cancer- spot the difference