Moloney Award 2009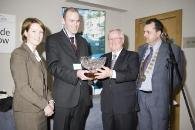 Left to right: Ms Kenny, Dental Health Foundation, Dr Rory Maguire, winner of the 2009 Moloney Award, Dr Patrick Crotty, Chair of the Moloney Award Committee and Dr Donal Blackwell, IDA PresidentThe winner of the Moloney Award 2009 was Dr Rory Maguire for his presentation entitled 'Splinting of Mobile Periodontally Compromised Teeth Simplified'.
Presentation Brief:
The management of mobile anterior teeth is amongst the most common challenges to the clinician treating patients with advanced periodontal disease. Mobility of periodontally compromised teeth leads to further periodontal bone loss, limits healing, limits function and may be uncomfortable for patients. Splinting stabilises mobile teeth (distributing forces from individual teeth to a new unit of combined mobile and less mobile teeth) aiding healing, function and patient comfort.
Splinting of mobile teeth may be time consuming and unsatisfactory at the chair-side. The technique presented outlines a simplified, more efficient, technique where the clinician has greater control of the eventual splint design.
Briefly, upper and lower impressions are taken, a wrought wire is adjusted in the laboratory to fit the cast of the mobile and adjacent teeth. At the chair-side a rubber dam is placed, following etching and bonding of the enamel a mosquito forceps is used to hold the splinting wire in place whilst an orthodontic composite resin is utilised to secure the splint. Inter-proximal and occlusal clearance are checked and oral hygiene instruction given.
Dr Maguire received his award at the Irish Dental Association (IDA) annual scientific meeting in Kilkenny.
The Award is conferred on the dentist(s) the judging panel consider to have presented the best table demonstration entry at the conference. Competitors are judged on detailed criteria including originality, usefulness and presentation.
The Moloney Award was established in 2003 to recognise the outstanding contribution made by the late Dr. Joe Moloney to oral health promotion in Ireland, through his involvement as a founding member of the Dental Health Foundation.