Moloney Award 2008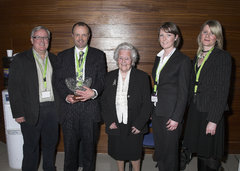 The winner of the Moloney Award 2008 was announced as Mr. Sean Malone for his presentation entitled 'Minimising Post Treatment Sensitivity in Posterior Composites'.
Mr. Malone's 10-minute practical demonstration on extracted teeth showed how attention to bond and composite placement can improve post treatment sensitivity in posterior composite restorations. Mr. Malone received his award at the Irish Dental Association (IDA) annual scientific meeting in Wexford earlier this month.
The Award is conferred on the dentist(s) the judging panel consider to have presented the best table demonstration entry at the conference. Competitors are judged on detailed criteria including originality, usefulness and presentation.
The Moloney Award was established in 2003 to recognise the outstanding contribution made by the late Dr. Joe Moloney to oral health promotion in Ireland, through his involvement as a founding member of the Dental Health Foundation.