Irish Society for Disability & Oral Health - DHF Bursary 2012
The Irish Society for Disability & Oral Health made the following awards at their Annual Conference on 22nd June 2012:
Annual Special Care Dentistry Award - €300
Annual Special Care Dental Care Professional (DCP) Award - €200
Student/Newly Qualified Professional Award - €150
Biennial ISDH Travel Bursary - €1,000
Click here for full details of the awards criteria and submission process
Funding for the awards is provided by the Dental Health Foundation.
Details on the DHF Awards are as follows;
The Dental Health Foundation supports the work of those working in special care dentistry through its Annual Bursary Awards to the Irish Society for Disability and Oral Health
This year we were delighted to present Dr Danielle McKeown with an award for her presentation on 'The effects of waiting lists on oral health changes for a special care population. Does being placed on a waiting list lead to harm for Special Care Patients?' at the ISDH Annual Conference in the Convention Centre on June 22nd. Dr McKeown will travel to the International Association for Dental Health Congress 2012 in Melbourne, Australia at the end of Ocober to present her research and we wish her all the best.
Ms Evelyn Lawless won her second DHF Bursary Award at the conference, this time for work on the 'Oral Health of Infirm Elderly Patients' and we congratulate Ms Lawless on her double success.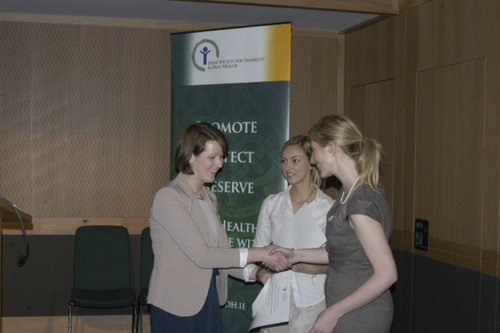 Evelyn Lawless being presented with her Dental Health Foundation Bursary Award.