ISDH / DHF Bursary 2018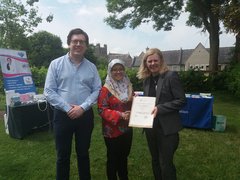 The Biennial ISDH Travel Bursary was won by Dr Nurul Sa'idah Ishak, for her entry "Can non-dental personnel be trained to assess and collect data on oral health in population surveys of adults with Intellectual disabilities?" Dr Ishak plans to deliver her presentation at the International Association for Disability and Oral Health (IADH) Congress in DUBAI in August 2018.  
The winner of the 2018 Annual Special Care Dental Care Professional Award was Ms Catherine Waldron for her entry entitled "Oral hygiene programmes for people with intellectual disabilities; A Cochrane Review ". Ms Waldron's entry has also been accepted for presentation at IADH Dubai.