ISDH-DHF Bursary 2017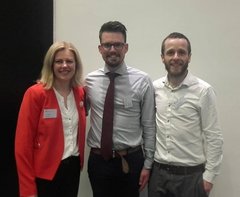 Pictured from L to R Ms Patricia Gilsenan O'Neill, DHF Chief Executive, Dr Chris Hogg, Winner of the Student/Newly Qualified Professional Award and Dr Caoimhin Mac Giolla Phadraig, ISDH President. The winner of the 2017 Student/Newly Qualified Professional Award was Dr Chris Hogg, a recently qualified dentist from Trinity College Dublin, for his entry "The Most Effective Non-Pharmacological Treatment of Moderate and Severe Anxiety in the Adult Patient"
 Dr Hogg examined the available literature relating to dental fear and anxiety in the adult patient. Anxiety measurement, available interventions and effectiveness were discussed in his essay. Deficiencies in the literature were identified, and suggestions made for future research directions. Despite shortcomings in the research, Dr Hogg noted it seemed that Cognitive Behavioural Therapy (CBT) in its varying forms is the most effective non-pharmacological intervention for managing dental anxiety in adults. He further noted research should aim for clear and standardised study design.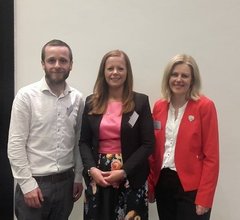 Pictured from L to R, Dr Caoimhin Mac Giolla Phadraig, ISDH President, Ms Dorothy Halpin, Winner of the Annual Special Care Dental Care Professional Award and Ms Patricia Gilsenan O'Neill, DHF Chief Executive. The winner of the 2017 Annual Special Care Dental Care Professional Award was Ms Dorothy Halpin for her entry "Inclusion of Special Care Patients in General Dental Services"
 A noted increase in referrals of patients with sensory difficulties led Ms Halpin to consult the literature for guidance on how best to provide treatment for these patients. The purpose of her report outlined steps taken in obtaining background knowledge, identifying individual need and planning dental visits in two case reports. Among the findings are the importance of personal contact and the use of visual materials.
 The findings of these case reports would indicate a need for an individual approach when considering dental treatment for special care patients. In Ms Halpin's experience, special care dental patients benefit from use of visual materials at the preparatory stage of first dental visits. Everyone is unique and for this reason it is necessary to assess the individual need and tailor interventions to this need. It is not certain that a particular approach will always result in a positive experience. However, an open mind and willingness to reach out and work with those who have special care requirements may be the base for a lifetime of positive dental visits. There are limitations to this account as it only considers two case reports. Ms Halpin hopes that continued practice would indicate that this personal approach has merit.