ISDH Bursary 2010
Winning Entry:
Intellectual Disability, Oral Health Promotion, Randomised, Controlled Trial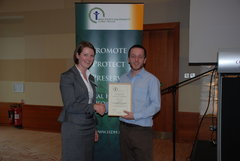 Caoimhin MacGiolla Phadraig receiving the 2010 winner of the DHF/ISDH Bursary AwardMac Giolla Phadraig, C.1, Guerin, S.2, Nunn, J.1
Dublin Dental School and Hospital, Trinity College, Dublin, Ireland
Department of Psychology, University College Dublin, Ireland
Title:
Train the Trainers: A randomised controlled trial of a multi-tiered health promotion programme to improve the oral health of people with intellectual disability.
Abstract:
A lack of appropriate assessment of oral health promotion interventions among people with intellectual disability is hampering improvement to their oral health. This study assessed the impact of a multi-tiered oral health promotion programme on care staff working with people with intellectual disability (ID).
Methods: Postal questionnaires were sent to a population of residential staff in an ID service provider, randomly divided into control and intervention groups. A specifically developed training programme was delivered to residential staff nominees, who then trained all staff within the intervention group. The control group received no training. Repeat questionnaires were sent to both groups. Change in oral health related knowledge (K) and attitude, self efficacy and behaviour (ASB) scores, was tested using paired-samples t test.
Results:
Of the initial 219 respondents (representing 61.4% - 48.1% of the population), 154 (RR=70.8%) returned completed questionnaires at retest (M=8.5 months, Range= 6.5-11 months). Control and intervention groups were comparable for general training, employment and demographic variables. In the intervention group, mean knowledge index score rose from K= 7.4 to K= 8.0 (p<.001) and mean ASB scale score rose from ASB= 4.4 to ASB= 5.2 (p<.001). There was an increase in mean scores from test (K= 6.9, ASB= 4.7) to retest (K= 7.2, ASB= 5.1) for the control group, but this was not statistically significant.
Conclusion:
Mean K & ASB scores among trainees at 8.5 months increased significantly, even though one can expect a reduction of initial effect by this time. The results indicate that a multi-tiered training programme improved knowledge, attitude, self efficacy and behaviour among trainees. An apparent halo effect was noted.