Irish Society for Disability and Oral Health - DHF Bursary 2009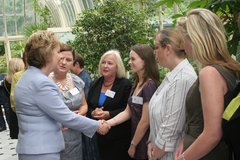 President Mary McAleese congratulating 3 of the 2009 DHF Bursary Award Winners pictured with Deirdre Sadlier, Executive Director, Dental Health Foundation and Tina Gorman, President, Irish Society for Disability & Oral HealthThe Dental Health Foundation Bursary was presented at the Irish Society for Disability and Oral Health's Annual Conference which took place on Friday, 26th June 2009 in Farmleigh House, Phoenix Park, Dublin.
President, Mary McAleese's addressed the Conference.
The 2009 winners were Emma Rattigan with her study entitled "Audit of Referrals for Head and Neck Cancer Patients for Pre-radiotherapy Dental Assessment" and joint winners for their "Information leaflet for patients with Inherited Coagulation Disorders", Evelyn Lawless, Carol Edmonds and Karen Dinneen.
The winners are pictured here being presented with their certificate.