IADR Irish Division / DHF Award 2012
The RSCI hosted the International Association for Dental Research (IADR) Irish Division Meeting on Wednesday, 24th October 2012.
The meeting showcased research on a variety of topics including dental sedation, root caries and geriatric oral health. During the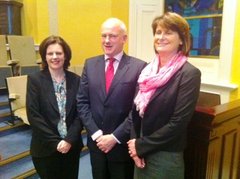 (L-R): Ms Patricia Gilsenan-O'Neill, Acting Executive Director, Dental Health Foundation, Dr Paul Brady, DHF Award Winner 2012 and Dr Mairead Harding, Irish Division IADR President 2013meeting two prize competitions were held and Dr Gerry McKenna from University College Cork won the IADR / RCSI Postgraduate prize for clinical research. The title of Gerry's presentation was "Impact of tooth replacement on the nutritional status of partially dentate elders: a randomised controlled clinical trial."
The Dental Health Foundation Award for Public Health and Health Promotion was won by Dr Paul Brady from University College Cork with his presentation "End-tidal carbon dioxide changes during intravenous conscious sedation for oral surgery". The award was presented at the meeting by Patricia Gilsenan-O'Neill, Acting Executive Director of the Dental Health Foundation.

During the course of the meeting Dr Mairead Harding from University College Cork took over as president of the division from Dr Fionnuala Lundy, Queens University Belfast. Under Mairead's presidency the next IADR Irish Division meeting will be held in Cork in October 2013.