DHF Award Best Oral Health Project
The Dental Health Foundation Award for Best Oral Health Project was established in 2015. The award is presented to the best student project from the Dental Hygiene Diploma Course in the Dublin Dental University Hospital, Trinity College.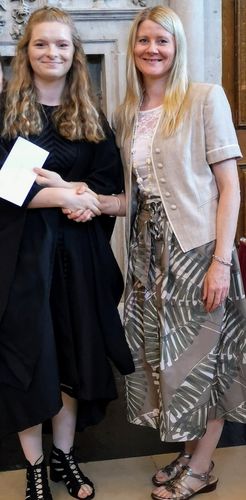 The project is based on a critical review of scientific literature involving a comprehensive search of relevant published articles on a specific population group with specific oral healthcare issues. The project is written in a thesis format, 3000 words maximum. The project and defence of the project forms part of the final examinations.
In 2019 the award was presented to final year student, Ms. Martyna Karkosa pictured (L-R) being presented with the Award by Ms Etain Kett, Public Affairs & Communications Manager, Dental Health Foundation.