World Head and Neck Cancer Day 2015
24 Jul 2015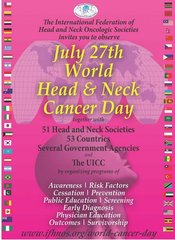 World Head and Neck Cancer Day 2015
World Head and Neck Cancer Day takes place on Monday July 27th 2015.
There are several events taking place around the country including free screenings for head and neck cancers, an awareness program for the general public and a programme of talks at the Royal College of Surgeons, Dublin. For details on these events click here.
Click this link to watch a video with Bill Clinton, Michael Douglas and Catherine Zeta Jones supporting World Head and Neck Cancer Day.
Mouth Cancer Awareness Day Ireland will be taking place on September 16th, 2015. We will have more details regarding this event in the coming weeks.
For more infromation on Mouth, Head and Neck Cancer including risk factors, symptoms and treatments click here.