Irish Society for Disability and Oral Health Bursary Award Winners
10 Jul 2013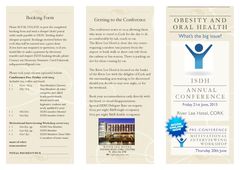 Cover image for ISDH Conference Brochure Cork 2013
The Dental Health Foundation congratulates the winners of the 2013 Bursary Awards presented at the recent Conference of the Irish Society for Disability and Oral Health.
The winners were as follows;
Francis Keeling won the SCD main prize for the Amchi Project,
Aishling Hynes won the Dental Care Professional award for her work on inherited bleeing disorders and
The student prize went to a group led by Stuart Yeaton from the Dublin Dental Hospital.
Congratulations one and all!