World No Tobacco Day 2012
1 Jun 2012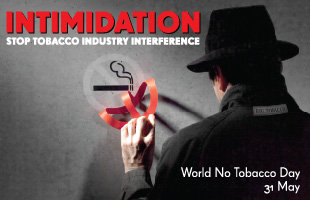 The Dental Health Foundation welcomes the World Health Organisation's World No Tobacco Day (May 31st).
The 2012 campaign focused on the need to expose and counter the tobacco industry's brazen and increasingly aggressive attempts to undermine global tobacco control efforts.
Tobacco use is one of the leading preventable causes of death, it is estimated that worldwide almost 6 million people die each year fom tobacco of which 60,000 are exposed to second hand smoke.
In relation to oral health, tobacco smoking increases the risk of mouth, head and neck cancers, it is a risk factor for periodontal disease (gum disease) and it is a cause of halitosis (bad breath) also.
The Dental Health Foundation recommends that smokers try to cut down and ultimately quit smoking for optimum health.
For help to QUIT smoking:
Call the National Smokers' Quitline 1850 201 203
Visit www.QUIT.ie and sign up for an online quitplan or
Find the QUIT campaign on Facebook www.facebook.com/HSEquit
Contact HSE smoking cessation services, details on HSE.ie or QUIT.ie
Talk to your GP or Pharmacist.