Calcium
Calcium
Calcium is essential in the development of healthy teeth. Dairy foods such as milk, yoghurt and cheese are great sources of calcium.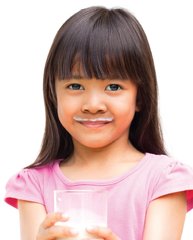 The Department of Health's Food Pyramid recommends three servings of dairy per day for adults and children under 9 years of age. For those aged between 9 and 18 years and for women who are pregnant or breastfeeding, 5 servings are recommended.
One serving is:
A glass of milk
A pot of yoghurt (125ml)
A matchbox sized piece of cheese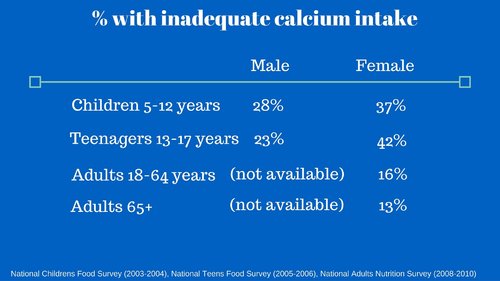 Surveys conducted in Ireland have shown that we have inadequate intakes of calcium. The table shows the percentage in each age group who aren't getting enough calcium in their diet.
For adults and children over 2 years of age, low-fat options are encouraged but only full fat products should be given to children under 2.
Here are some ways to include more dairy in your diet:
Have milk or natural yoghurt with cereal for breakfast
Add natural yoghurt to some fresh fruit
Add grated cheese to your salad or pasta
Have a glass of milk with your dinner
Add milk to your omelette or scrambled eggs
Calcium can also be found in other foods, including;
Almonds
Canned fish e.g. sardines or salmon
Spinach
Broccoli
Green Beans